Signature found on the register of deaths for Mary Dixon-Spain in 1915. Believed to have stood in for Herbert, while the latter was in mourning.
The register of deaths: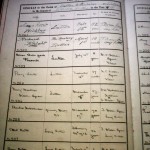 The picture of the register courtesy of David Secker
Discarded: No evidence to suggest a contemporary of Rev. TDS, more likely to be Hubert's generation?